Learn Emotional Intelligence Theory
by Emotional Intelligence Coach Robin Hills
Coaching awareness
The first component of emotional intelligence theory is awareness – how well do you know yourself and how aware you are of others?  Along with self-awareness, one of the more important emotional intelligence competences that has been identified is empathy – that is, how good you are at sensing others' emotions, understanding their perspective and taking an active interest in their concerns. 
Self awareness and empathy are good starting points to enable you and your coachee to focus on areas of improvement.  You will need to consider whether it is more effective to coach someone on their weaknesses, as is traditional, or to look at the emotional intelligence competence where they are already strong and make it even better.
Underpinning all of emotional intelligence theory is motivation – the underlying drive to succeed. Does your coachee really want to make any necessary changes? Without this, any coaching intervention that you employ is not going to work. Through good coaching, you can build up motivation by focusing on goal-setting activities that helps to concentrate on strengths rather than weaknesses. Focusing on negatives creates anxieties and so you will inhibit the self-directed learning that makes changes.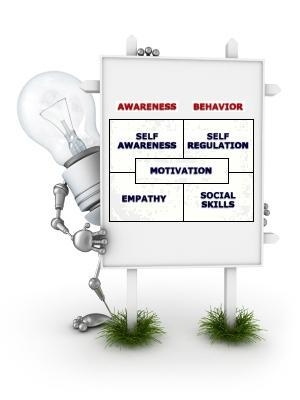 Coaching Behavior
Action through behavior forms the second component of emotional intelligence theory. How do you control the way that you use your feelings and emotions? How good is your self regulationand how does this impact on the thoughts, feelings and actions of others?  
Through coaching, you can give direct observable feedback on how people show their behavior through their body language, voice and tone. You can give further input around perceptions.  That is the way beliefs, values and upbringing can affect perceptions of people and situations, by filtering and distorting the picture of reality. This is a good precursor to the development of empathy and thus social skills.
A really useful activity is to ask the coachee to list everyone in their network and then mark against each the ones who will help them to change and the ones who may hinder their attempts. This will help you to look at that what they are experiencing through the actions and the behaviors of other people and to further explore understanding around perceptions. It will also help you to determine how their motivation is affected by other's actions and behaviour in more detail.
So, you can see that you can really help develop your coaching using emotional intelligence. However, you will need to allow your coachee plenty of time to reflect on their personal learning and to constantly practice in order to bed in these new effective emotionally intelligent habits.
Further Reading

The Emotional Intelligence Pocketbook
(The Pocketbook) by Margaret Chapman (Paperback - 20 Oct 2001)
The New Leaders: Transforming the Art of Leadership into the Science of Results
by Daniel Goleman, Richard E. Boyatzis, and Annie McKee (Paperback - 6 Jun 2002)
Working with Emotional Intelligence
by Daniel Goleman (Hardcover - 24 Sep 1998)
See Also:-


What Is Emotional Intelligence?


Why Should We As Coaches Know About Emotional Intelligence?
Emotional Intelligence Assessment
Working With Emotions To Drive Business Performance
Free Emotional Intelligence Articles

Book Reviews:-

The Emotional Intelligence Pocketbook (The Pocketbook)


The New Leaders: Transforming the Art of Leadership into the Science of Results
Working with Emotional Intelligence

Return to Home Page from Learn Emotional Intelligence Theory