Action Learning And
Group Coaching
In this section we will help you to understand Action Learning and Group Coaching approaches that you can use to help you solve problems, answer questions and work on issues.
Often these terms are used interchangeably and distinctions have become blurred so here we will help you understand a range of group problem-solving interventions all of which involves the development of individuals through a supportive group environment.
As a coach and facilitator I have used a range of group problem solving methods from Action Learning in its purest form to other types of group mentoring, coaching and masterminding, all of which help group or set members work on specific issues or problems, whether individual or shared. However not one approach fits all and it is about choosing the most appropriate one for what you are aiming to achieve.
In this section you will find information to help you understand some of these different approaches, how they differ from one another and when each may be appropriate. You will also find tips on how to run successful action learning and group coaching sessions.
What Is Action Learning And Group Coaching?

Role Of Action Learning Facilitator
The Ideal Number Of Members In An Action Learning Set
Lifetime Of An Action Learning Set
What Is Action Learning And Group Coaching?

Action learning is a powerful process used in a group setting to tackle problems where there are no clear-cut or simple solutions. It draws upon the principle that we learn most effectively when we address problems within a small group which provides a supportive yet challenging environment.
It was originally developed as a concept by Reg Revans in the 1940's. He believed that the most effective learning arose from combining the existing knowledge held by the problem-holder with insightful questioning of this knowledge by others. In other words it is based on the principle that we have all the knowledge and resources inside us to solve our own problems, it just requires someone to ask those questions to help unearth these resources from within us.
It is called 'action' because the issue holder is expected to 'taking action' as a key component of the process and is held accountable to the group for achieving this action. The 'learning' element is also important, not only for the issue holder but also for other set members. The process of reflection plays a large part in aiding the learning process with space for the issue holder to reflect on their issue.
So, in effect this it is what I would describe as coaching, just carried out in the mutually supportive environment of a group where all members at some point bring issues to the group whilst all other members play the role of coach. It differs from other group problem solving interventions in that in its purest form it is about the set members asking coaching questions of the issue holder to help them reflect on their issue and identify their own solutions for moving forward and not about advice giving.
Some action learning processes allow for a 'resources round' where after set members have helped the issue holder identify their own solution they offer their own reflections, thoughts and ideas based on experience. But even these are given more as ideas and options rather than advice or recommendations.
By properly developing questioning, listening and reflective skills set members are equipping themselves with the ability to solve problems themselves in the future when there are not set members to ask the questions
There is a set of underlying learning principles that underpin the process and a nominated facilitator plays a key role in managing the group process and ensuring the principles are adhered to. In additional to this the set members may also create their own ground rules for working together and again the facilitator will play a role in ensuring these are met.
One point worth noting is that action learning is term that has been used to describe various other group coaching methods some of which allow set members to only offer their thoughts, reflections and suggestions and omit the insightful questioning. Whist this approach certainly has its time and place (and I have used these to great effect) I would tend to refer to this process as Business Masterminding.
Action Learning And Group Coaching Ground Rules
When you are running a group coaching session or an action learning set it is critical that members develop a set of ground rules which specify the way they will work together.
Establishing these at the outset gives the set clear and agreed guidelines to work to. It is important that the group takes ownership of the ground rules so must be involved in formulating them themselves rather than having them imposed upon them. However it can be helpful to give examples of typical ground rules to help start the thought process. Here are some examples that you might use:
Confidentiality – i.e. what is discussed will be kept within the set members and discussed outside of the set. What are the boundaries of confidentiality?
Punctuality – agree what is acceptable in terms of punctuality for the sessions
Attendance – what is expected in terms of attendance at sessions. What apologies should be given and how much notice should be given
Minimum number of set members – what is the minimum number of people required for a set to take place?
Listening – each member has air time whilst other members listen
Although these are described as Ground Rules they may be applied to any group problem-solving scenario where groups will be required to work together.
Ideal Number Of Members For An Action Learning Set
It is worth considering the ideal number of members you should have in an action learning and group coaching session.
The most effective groups consist of between 5 – 8 members, large enough to generate a breadth of questions and ideas, small enough for each member to be able to participate fully both as an issue holder or set member.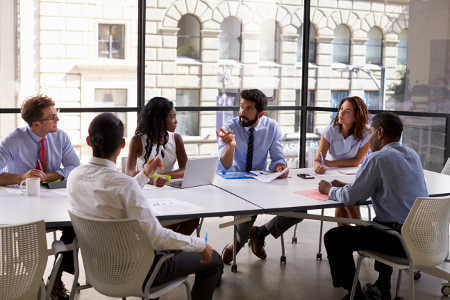 Remember that each group should have an issue holder and a facilitator so if you have five participants you have just three members to ask questions and offer their thoughts and reflections to help the issue holder. From experience when there are more set members I find there is a far greater number and variety of ideas generated from the session. If you are working with just five members then I would recommend that the facilitator also plays the part of a set member.
If the group is any bigger than 8 members then it will reduce the frequency of each member being given the opportunity to present an issue to the group. Also I find that set members are keen to contribute and at times it can be more challenging as a facilitator to manage larger less mature groups, as sometimes there is instinctive competition for air time. This also drives the need to lengthen the process.
In my view the ideal number for action learning and group coaching is 6 set members plus a facilitator who focuses solely on managing the process
Lifetime Of Action Learning & Group Coaching Program
The lifetime of an action learning program varies depending very much on the reasons for its formation in the first place and the success of the group in practice. Although sets can be formed for 'one off' occasions generally the idea is that once a set is formed members continue to meet and support each other over a period of time, say over several months. The real benefit of action learning sets comes being part of a mutually supportive group who can help each other work on their issues. If all members in a typical group of 6 or 7 are to be supported then it is likely that more than one session would be needed to ensure that all members receive the help they are looking for.
Part of the action learning and group coaching process is the accountability to the group for actions agreed and by this definition a group would need to meet again for the issue holders of the previous session to report back on progress.
Also the skills required by members to effectively work together take time to develop and a group generally needs time to gel and get used to the action learning process.
Some successful action learning sets once formed continue to meet over a period of many years benefiting from the strong cohesion between members.
Further Reading
The Action Learning Handbook: Powerful Techniques for Education, Professional Development and Training - by Anne Brockbank and Ian McGill (Paperback - 6 Nov 2003)
Action Learning: A Practical Guide for Managers - by Krystyna Weinstein (Paperback - 16 Nov 1998)